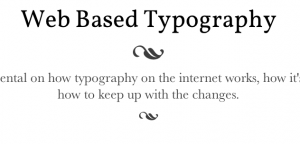 Helvetica, Arial, Georgia, Times New Roman, Tahoma, and a few other fonts have long been the standard for typography on the web; to a large extent, they always will be. Recently, though, web developers and typography lovers have been given new options to embed non-web-standard fonts in their websites.
Real typography is finally coming to the web! With technologies like Typekit gaining popularity, @font-face is becoming a more relevant and practical font-embedding technique for typography lovers. Techniques using sIFR, cufon, or other similar approaches are getting tossed to the wayside, but are still justifiably useable in some situations, too.
This class will go over these different methods of implementing non-web-standard fonts on the internet, and will leave you with the ability to determine which method best suits your needs, and the knowledge to implement it.