The dead laser cutter donated to us by Inventables after blowing one too many power supplies is running!  While not yet ready for prime time, a water cooling system in a bucket and a fume exhaust thru the flue from the old furnace allowed first tests.  The Shapeoko laptop hosts the RetinaEngrave software that makes it look like a Windows printer.
We're still getting our feet wet with laser power, speed, number of passes, raster vs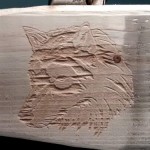 vector operations, but we've actually cut some paper, wood, and plastic.  This wolf head – courtesy of Google Images –
adorning a circular saw push stick was the first actual cut.
Daniil had the honor of being the first to produce an actual useful object on the cutter.  We think his daughter will be thrilled with these laser cut, hot air station formed goggles for her skateboarding doll.  She's been trying to get some for a while now.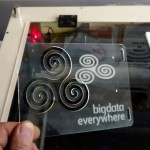 There's still a lot of work to do making much more proper implementations of cooling and exhaust systems.  We need proper electrical connections to guarantee the cooling will be running if the laser is on, and a damper on the exhaust pipe to keep cold air out and the landlord happy.  Lots more Ts to cross and Is to dot.  But it's actually cutting stuff and hasn't blown up yet!