If you enjoyed our Introduction to Arduino class, come back for the next class!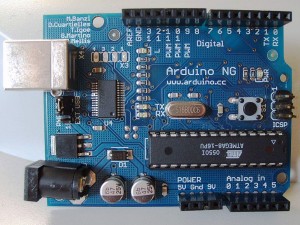 In Arduino 201, we'll be using the Processing framework and the Firmata library for the Arduino to interact with the Arduino from a graphical user interface.
This class will build on the Darkness Detector circuit we built in Arduino 101, adding calibration knobs for high and low, and outputting the resulting data to a graph using Processing.
Students should be familiar with the concepts and circuits taught in Arduino 101, specifically reading analog inputs and the voltage divider circuit used in the Darkness Detector.
Knowledge of Processing is not required.
What to Bring
A laptop (we have a few spares, let us know if you need to reserve one)
Your arduino kit (or order one with the class)
Materials
All classes in the Arduino Track require the Arduino Kit (external link to Adafruit).
Buy it now ($15 off with tuition) and reuse it for the rest of the classes!